Our Company
We're a global team of 80,000 people, working collaboratively across the health system to improve care delivery, quality and cost-effectiveness. We focus on three key drivers of transformative change: engaging the consumer, aligning care delivery and modernizing the health system infrastructure.
We are connected with and support important decisions across health care.
We help individuals and families make benefit choices and manage their health care dollars.
We help doctors and patients make informed treatment decisions.

We help communities balance quality health services with sustainable costs.
We create solutions that work together, for the good of the health care system.
---
About Optum™ in India – Employer Services

OptumTM offers proven programmes and professionally trained counsellors with one goal — to improve health and well-being for everyone.
Indian companies choose Optum for our national and international capabilities as well as our personalised local and regional services. Our robust employee and family assistance programme and our organisational support and well-being services provide essential emotional support when difficult workplace or life challenges require professional guidance.
About Optum in India – Services for Government:
Optum enables government health agencies to provide accessible and affordable health services through advanced analytics 
Learn how our comprehensive health care technology solutions help enhance the overall quality of public health care systems.
News
Discover what we're doing to help the health system work better for everyone.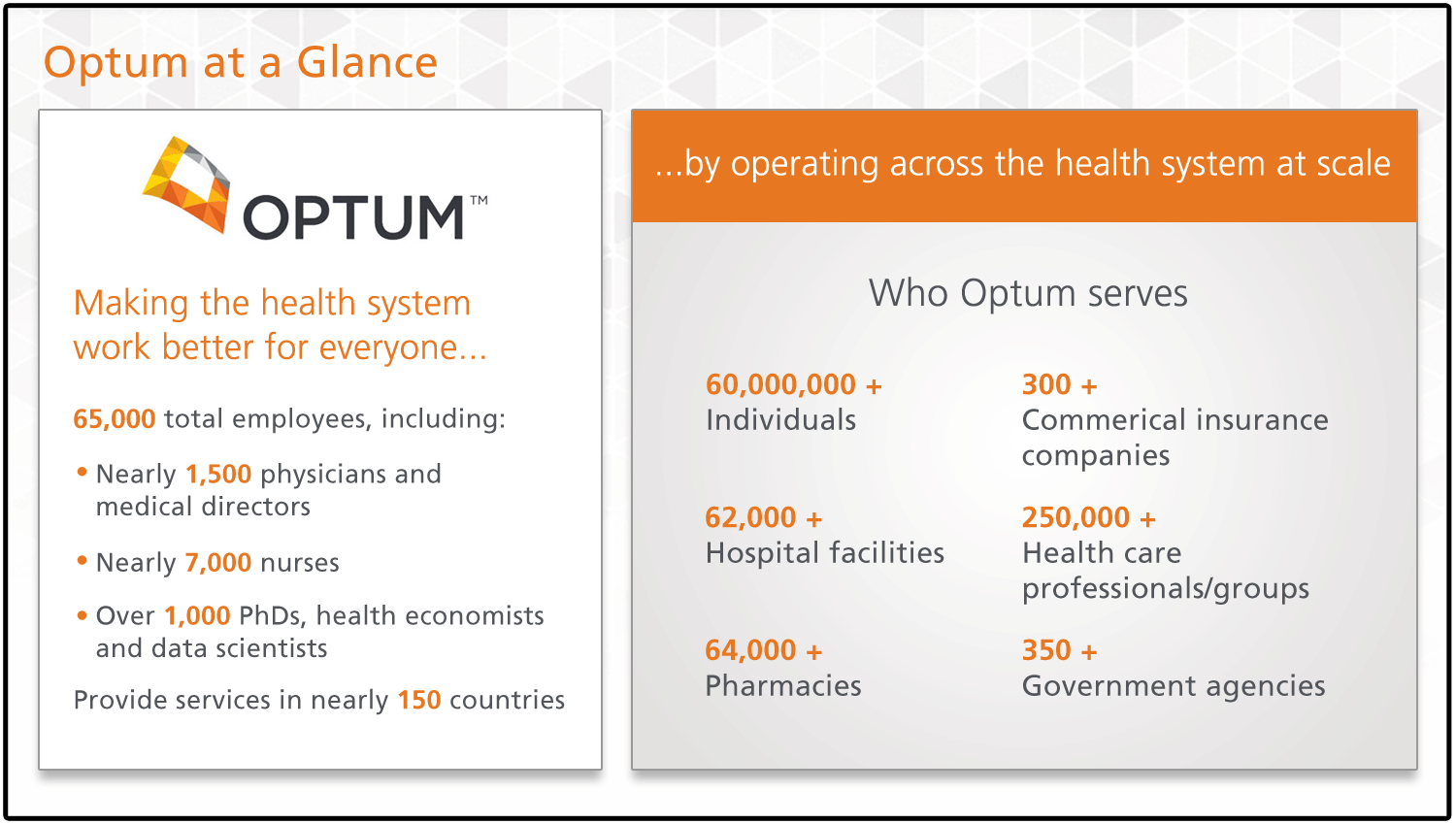 Careers

At Optum, our mission depends on hiring the best and brightest. Interested? Apply today.
Our Leadership
As conversations about health care rise and fall in the public eye, Optum continues to work toward improved care delivery, quality and cost-effectiveness in the health system. We focus on three key drivers of transformative change: engaging the consumer, aligning care delivery and modernizing the health system infrastructure. To help offer a broad perspective and cultivate deep relationships throughout the health system, we've assembled an executive team that brings extensive leadership experience and business acumen to the clients we serve. Our leaders set our strategic agenda so we can collaborate effectively with our industry partners and provide solutions. Equally important, our leaders share a common goal: to help make the health system better for everyone.

Widely regarded as innovators and thought leaders, our executive team has served in key administration roles, on the boards of national and community-based organizations, and in a number of advocacy roles for health care and community-based organizations.

Our Clients
Optum serves virtually every dimension of the health care system, working with a diverse set of clients across 140 countries – from those who diagnose and treat patients to those who pay for care, deliver health services, and those who supply the cures. We serve:

People who use Optum™ wellness services, behavioral health solutions, decision support services, billing services and more.
Employers who partner with Optum for pharmacy benefits, health and wellness programs, financial services and more.
Government entities that look to Optum for a broad range of services and technologies. In the United States, we help improve efficiency of health and human services while enhancing the quality of programs through population analytics, program integrity, consulting and more. In countries outside of the United States, Optum serves a wide range of government-sponsored public health systems and regions just developing a health care infrastructure.
Health plans that use Optum to help them significantly reduce administrative expenses while sharpening their focus on quality and care improvement. Optum helps health plans design new business and risk models that account for Medicaid expansions, Medicare and Medicaid dual eligible populations, and health benefit exchanges, as well as comprehensive compliance programs that accommodate ICD-10 and STARS.
Hospitals and care organizations that work with Optum to implement strategies and technologies that help them improve both their financial and clinical performance, while retaining patients.
Life sciences companies that partner with Optum for consulting, technology and scientific insights that help them improve the quality and affordability of health care and health outcomes.
Physicians who work with Optum to create healthier practices and healthier patients through the adoption of electronic medical records, improved clinical workflow and more.