Full Width Image Background
Full Width Image Background
Text
A leading digital health technology company in India
Text
Our deep expertise, advanced analytics and innovative technology help our customers drive sustainable health economics and more personalized care.
Color Block
Text
Overview
Bring every aspect of health care together to give a complete view of one's health
Provide personalized insights to help guide decisions for easier health care experiences
Provide support anywhere by giving affordable choices to meet  individual needs- Drive better options for health care that help everyone live a healthy life
Text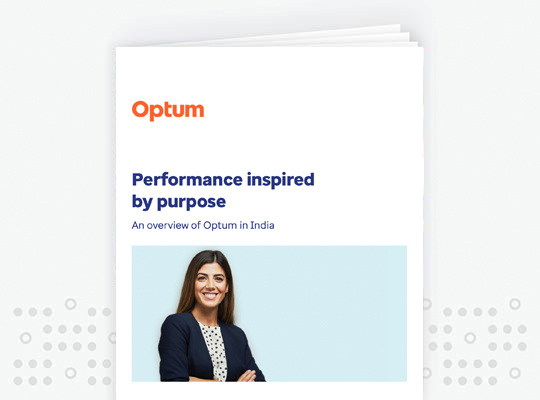 Text
Optum in India
Optum has been operating in India since 2002 and has teams supporting digital health care, product development, automation, analytics, data solutions and health care operations. 

With access to scalable, high-quality talent and infrastructure, we are able to strengthen our service offering, deepen solutions, drive growth and expand our capabilities. We strive to improve experiences and lifelong health outcomes for everyone we serve while discovering new ways to make care more affordable.
Color Block
Text
Our social commitment
We believe everyone should have the opportunity to live a full and healthy life.
Our focus on social responsibility is a key part of how we can help make it happen.
Text
At Optum, we are dedicated to helping people live healthier lives and helping make the health system work better for everyone.
Text
Guiding this important work are our core values.
Integrity: Honor commitments. Never compromise ethics.
Compassion: Walk in the shoes of people we serve and those with whom we work.
Relationships: Build trust through collaboration.
Innovation: Invent the future and learn from the past.
Performance: Demonstrate excellence in everything.
Full Width Image Background
Text
Inclusion and diversity 
When we embrace a range of people and perspectives, our individual and collective contributions are magnified.
Full Width Image Background
Full Width Image Background
Text
News
Get the latest from Optum to see how we're helping make the health system work better for everyone.