Color Block
Text
Inclusion and diversity
We're creating a culture where all are appreciated, valued and able to contribute to their full potential — United We Belong.
Text
Our culture brings us together
Our culture of inclusion, diversity and equity drives our thinking, behavior and extraordinary results:
We come together as individuals, forming a team as diverse as the people we serve — one person at a time. 
We intentionally choose to lead with inclusion before diversity. This is because diversity of people and thinking can only flourish when we first create that culture of inclusion.
Text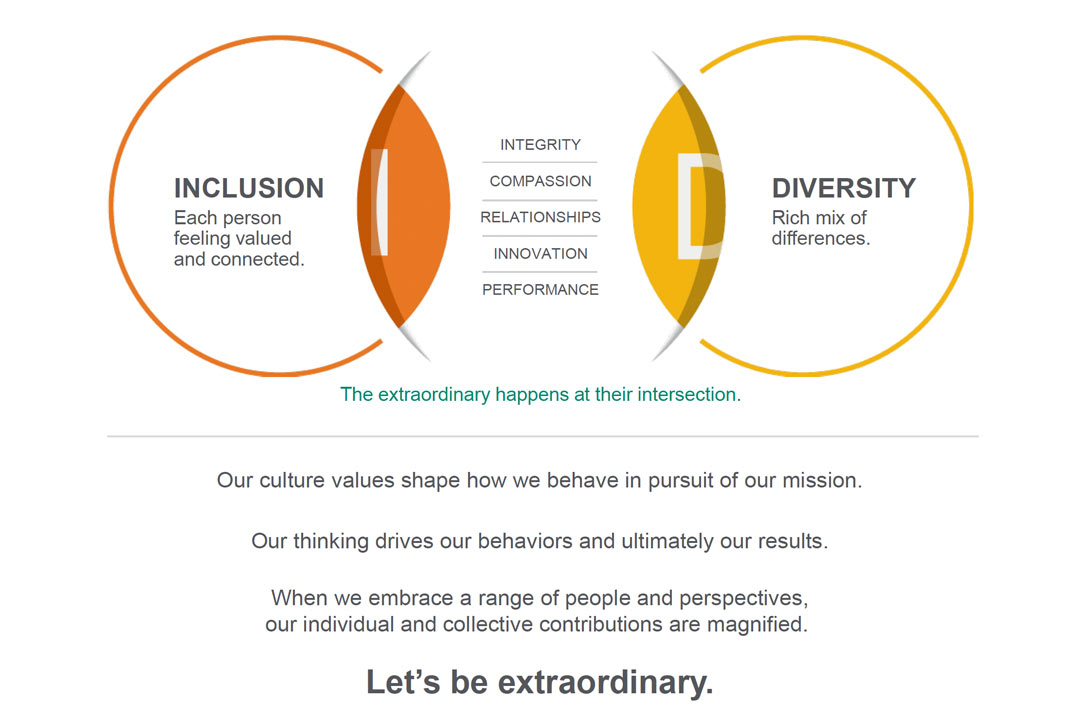 Accordion Block v2
Three horizontally placed circles to show the overlap and deep connection between:

Inclusion, where each person feels valued and connected.
Our core values at Optum – Integrity, Compassion, Relationships, Innovation and Performance
Diversity, which refers to a rich mix of differences

Text below the three circles reads as, "The extraordinary happens at their intersection."

The rest of the image comprises of more inclusion and diversity messaging that says, "Our culture and values shape how we behave in pursuit of our mission. Our thinking drives our behaviors and ultimately our results. When we embrace a range of people and perspectives, our individual and collective contributions are magnified. Let's be extraordinary."
Text
Begin your life's best work.SM
Text
We're building a diverse workforce with expertise to create a healthier world for everyone.
Text
Awards and recognition
Help employees save and pay for health care and help employers manage risks and control costs.
Text
Economic Times Best Organizations for Women 2022
Optum is one of The Economic Times "Best Organizations for Women in 2022," recognized for empowering female colleagues.
Text
2021 Working Mother and Avtar Best Companies for Women in India
Optum has been recognized as one of the 100 Best Companies for Women in India in 2021 by Avtar.
Text
Inclusion and diversity event
Speaker series: Meet the super women at Optum
A session by inspirational women leaders at Optum on the theme of inclusion and diversity, sharing the challenges and learnings from their respective career journeys.
Text
Inclusion and diversity event
Masterclass on "AI is the future — but where are women?"
Insights from Optum leaders on the skills needed to build a career in artificial intelligence (AI) and busting myths around this revolutionary technology.